TIS THE SEASON TO GIVE BACK!
November is the beginning of our season of giving! Our rescue groups do so much for our community's homeless animals. We want to give back by hosting a donation drive.
Every year we put up a little tree in our lobby and get ready for the holidays and festivities to come. As we cherish the small moments like the first brush of cold when we open our doors in the morning, to smells of cookies, cider and pine needles, we look forward to ways we can help our community and show our love and support like so many of you have shown us.
So we look forward every year to our Angel Tree. Our team gets together making cute little ornaments in the shapes of dogs, cats and rabbits, symbolizing the many rescues we work with. Each ornament has a note on the back of the much needed supplies to help each rescue group. A wishlist from each rescue group will be posted on our Facebook page.
So if you love the giving season and helping animals then please come on by and select an ornament from our humble little tree. When you bring in a donation, we will apply a $5 credit to your account as a Thank You!
Because our rescue groups mean so much to us, we are hosting this event for 2 months!
If you're interested in adopting a cat, dog or rabbit this holiday season, check out our rescue groups!
https://www.furryfriendsanimalrescue.org/
https://www.chloespetrescue.org/
http://www.wildrescuetexas.org/
FLEA AND HEARTWORM PREVENTATIVES
* Receive a $50 rebate when you buy 12 doses of Heartgard & 12 doses of Nexgard
* Buy 6 doses of Nexgard, Get 1 FREE!
* Receive a $15 rebate when you purchase 2 doses of Bravecto.
(Offers valid through 12/31/18)
WE HAVE WINNERS FROM SEPTEMBER!
In September, every pet that came in for a Wellness/Annual exam was entered into a raffle. We had 3 baskets available – one for dog, cat and exotic owners each. Not only did the lucky winners receive a basketful of goodies, they also received a $25 Family Friends Giftcard to use for future services! It's just another way we want to thank our amazing clients for coming to see us!
Congratulations Belle, Pumpkin & Simba – Our September Promotion Raffle Winners! Your PAWrents take such great care of you! Enjoy your goodies!
GIVING BACK TO OUR COMMUNITY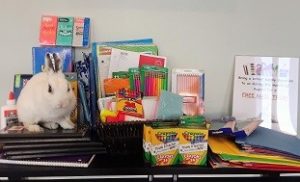 In August, every client who brought in school supplies to benefit Frisco ISD received a free toe-nail trim for their pet. Thanks to everyone who donated! We were able to make a sizeable donation to a neighborhood school. Even our resident rabbit Willow was impressed!
FREE OFFICE VISIT FOR NEW CLIENTS!
Click HERE for a coupon for a FREE office visit for 1 pet – a $55 value! (for new clients only).
SHARE THE LOVE!
Don't forget to mention us to your friends to be entered into our "Client Referral" raffle. We'll draw a new winner each time we reach 25 entries! Refer multiple friends to increase your odds.
Each winner receives a $25 credit on their account for future services!