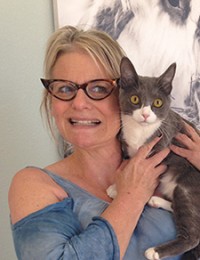 Licensed Technician
Amy joined Family Friends Veterinary Hospital as a Licensed Veterinary Technician in April of 2015. Amy was born and raised on the East Coast, and lived abroad in Israel and Australia before settling down in the DFW area.
She has a degree in veterinary sciences and volunteers with the Greyhound Adoption League of Texas, Inc. (GALT). Amy has a four-year-old Great Dane, Arturo and a six-year-old Greyhound, Polly Pocket.
She had always considered herself a "dog person" until she met Pikachu, her nine-month-old cat. She passed on her love of animal to her two daughters who currently have rescues of their own. When Amy is not working, she's busy traveling the world, exploring the wilderness, watching movies, and reading.