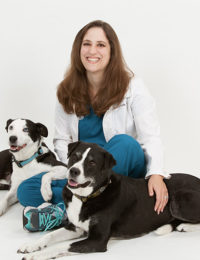 Veterinarian
Dr. Furth obtained her undergraduate education at the University of Denver and worked for a year as a technician under Dr. Rogers' mentorship. She received her Doctor of Veterinary Medicine degree from Texas A&M in 2011. After completing a small animal rotating internship at Auburn University in Alabama, Dr. Furth went on to complete a surgical internship at Capital Area Veterinary Specialists in Austin, Texas and taught as a clinical associate in small animal surgery at Western College of Veterinary Medicine in Saskatoon, Saskatchewan.
She worked as an emergency and critical care doctor at two of Austin's specialty hospitals for 4 years, but with the birth of her son a few years ago, Dr. Furth transitioned to general practice. She is finally relocating to the Frisco area in order to join the Family Friends Veterinary Hospital as an associate veterinarian.
Dr. Furth's professional interests include ultrasonography, surgery, emergency and critical care, non-invasive techniques, neurology, rehabilitation, and teaching/education. She appreciates spending time with her son and husband as well as their two dogs, Tony (a three-legged Pit Bull Terrier hellion with separation anxiety) and Gillie (an enthusiastic pogo stick mix Lab). In her spare time, Dr. Furth enjoys reading, crafting, and watching movies.
She is a member of the following: